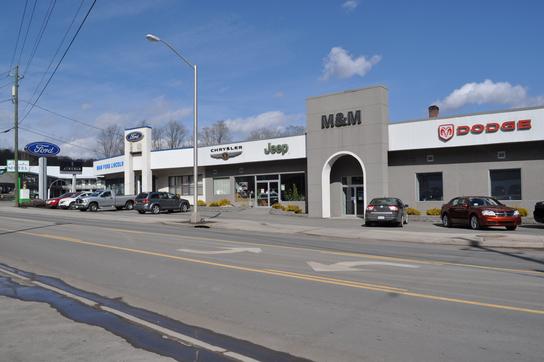 Welcome to M & M Chrysler Jeep & Dodge!
We're Proud to Be Liberty, NY's Direct Source for All Things Chrysler, Jeep, & Dodge!
When you visit us at M&M Chrysler Jeep & Dodge, one of the first things we hope you notice is our friendly, welcoming attitude and our handsome new Chrysler, Dodge, Jeep, or RAM vehicles. We take great pride in being Liberty, NY's local CDJR dealership, bringing the cars, crossovers, SUVs, and trucks folks are looking for directly to them. It's a winning combination of  top-shelf customer service and the best and brightest from Chrysler, Dodge, Jeep, or RAM that brings folks in and keeps 'em coming back. We're proud to serve drivers here in Liberty and our neighbors from Middletown, Monticello, and Goshen, NY.
New Chrysler, Dodge, Jeep, or RAM Vehicles Galore!
All four of the brands we represent are known for longevity, reliability, and each has its own specialty. Chrysler is great for family drivers, with the Chrysler 300 offering a stately sedan experience and the award-winning Chrysler Pacifica changing hearts and minds everywhere when it comes to the humble minivan. As for Dodge, performance-driving fiends know this one is for them, with incredible models like the Dodge Durango SRT, four-door Dodge Charger, or the two-door Dodge Challenger ready to serve up smile after smile, mile after mile. The Jeep brand, of course, is known for its off-road fortitude, especially in the factory-ready Trailhawk® models like the Jeep Cherokee Trailhawk®, Jeep Compass Trailhawk®, or Jeep Renegade Trailhawk®. And then we have the RAM lineup, big and burly and built for work; the RAM 1500 pickup offers strong, reliable performance, but the RAM lineup is home to other professional and commercial vehicles perfect for small businesses!
Used & Certified Pre-Owned Models, Too!
It should come as no surprise that some New York drivers actually prefer to buy pre-owned-after all, a pre-owned vehicle fits into some budgets a little easier, and you can sometimes get more bang for your buck. If you're someone who appreciates the reliability and affordability of a pre-owned model, but still wants the peace of mind that a warranty offers, you can find the Certified Pre-Owned Vehicle of your dream here on our lot. Our (CPO) program gives you a dedicated warranty, plus other ownership benefits-it's a like-new experience with a like-used price tag.
Let Our Professional Financing Team Get You Behind the Wheel
While it's not often anyone's favorite part of the profess, auto financing is the last piece of the puzzle that lets you bring home that new Chrysler, Dodge, Jeep, or RAM vehicle for good. Our team is professionally trained and approachable, making sure to keep your financial goals and landscape in mind when we build a financing offer for you. We know that an affordable payment is key for some drivers, so let us go to bat for you!
If You Want Your Service & Maintenance Done Right, Go Where the Pros Go
Our team knows Chrysler, Dodge, Jeep and RAM, we know our way around the different models like the backs of our hands, and if you'd like seamless, professional service each and every time, choosing our professional Service Center is a sure-fire way to get it. From the little stuff like oil changes and tire rotations to bigger stuff like engine and transmission repair, you can count on our highly-trained technicians and state-of-the-art facility. And since we make it simply to schedule your appointments online, fitting maintenance into your schedule is easier than ever-so no more excuses for why you haven't changed your oil.